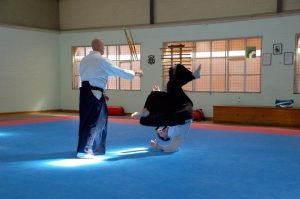 Recently we had our national seminar, and comments were made about how different it had felt compared to other seminars we have had in the past. Two things stuck out in people's minds. First, everyone on the mat was there to just listen and learn, free of agenda. Second, everyone had a chance to spend a lot of time with my senior students which didn't allow them to train back into their bad habits.
No ego, no one to impress, train, fail – repeat. What a real seminar should be about.
Since I assumed my leadership role in Yuishinkai, I have tried very hard to get people to come and stay in Tassie with us for extended periods of time. Having me travel to your venues is fine, but being here immersed in Aikido, challenged at every training by my seniors, well that is a whole different thing again.
I was lucky to have spent a few years in Japan training, when I returned I couldn't go back to social training here in the west, and eventually opened my own dojo to explore, to learn, to fail and to succeed. At the beginning for more failure than success. A dojo to me is a sacred place. It's a place where the mirror of reality reflects back into myself the truest vision of where I am along the journey I chose to take.
It should never be a place to hide, but a place to be seen – warts and all. To confront and overcome fears, doubts and egotistical falsehoods. In short, a place to find "the way".
Recently I had two interstate visitors come to Tassie, they trained with my crew. I asked them to pen a few thoughts in a hope to encourage others to do the same, come find us here at the bottom of the world. Let us help you to have a different perspective on what it means to be uke. I can be contacted anytime at aikidoschoolofexcellence@gmail.com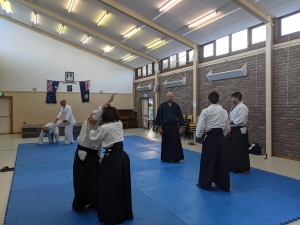 Michael
"I have been training in Aikido since 2002. I am currently a Nidan in Yuishinkai Aikido at Nathan Dojo.
Over the years I have been to many seminars and workshops with a range of teachers and styles all with the mindset to continue to refine my Aikido practice.
This year, I was unable to attend the National Seminar in Hobert even though I had booked and paid for it as it was unsure if the quarantine restrictions would be lifted in time or not.
As I was still keen to go to Hobart to train Peter Kelly Sensei offered a 4-Day Bootcamp experience for to those of us from Brisbane that had showed interest in the National Seminar.
While I've attended several seminars with Peter Kelly Sensei in the past what I experienced at this 4-day boot camp was beyond anything I've done before.
One of the big differences for me was that not only did I get more personalized instruction but we also got to train with many of his top-level senior students.
This meant that instead of working with someone trying to figure out how a technique worked I got to train with those that had been practicing what Peter Kelly Sensei has been teaching for years.
The standard of some of the students in Hobart is mind blowing to me. Training with them was such a privilege and it has certainly left a big impression on me in so many ways.
I'm more inspired now than ever to make this boot-style training part of my on-going growth as a life-long student of Aikido.
We did up to 6 hours of training on some days and while I struggled physically for the first couple of days, by day four my body adjusted, and I was feeling the flow.
The bootcamp was such a powerful process of helping to forge my mind, body and spirit because Peter Kelly Sensei not only Embody's everything he teaches but it is apparent to me that much of this has been passed onto his senior students.
I cannot emphasize enough just how high a standard has been set at the Hobart Dojo, and to have the opportunity to train with them over extended periods of time was such a gift.
I've never trained in Japan but for me this type of training is what I imagine it might be like to train alongside those who live and breathe Aikido as a way of life. Rather than how I see many treat it as a social affair.
Since coming back to Brisbane, I feel somewhat reborn in my Aikido as it has shifted many things for me. I know now that this 'bootcamp' style of training which I call an intensive is far superior to anything else I have ever done.
It's left such an impression on me that I intend to incorporate it into my yearly training schedule as I know that this is the best way for me to continue to internalize the true essence of Aikido.
We have such an amazing opportunity right here in Australia to train alongside those that Peter Kelly Sensei has been imparting his teachings too for many years.
There's nothing else like it that I have seen at any of the dozens of Seminars I have been to and if one of the goals of Aikido is that it must work in the real world then there is no doubt in my mind that the Hobart Dojo is as real as it gets.
I'd also like to add that everyone in Hobart is incredibly generous in terms of how much they give of themselves while I was at the bootcamp. I don't know of many places where you can get access to a 10th Dan for such personalized and attentive instruction.
To say I am impressed is an understatement. What I really am is incredibly grateful for the amazing opportunity that all of us in Aikido Yuishinkai have right here in Australia to learn from the best doing these bootcamp style intensives that are quite extraordinary.
If you've never trained in this way before, or it's been a while since you have, then making the time to train at a level that quite frankly most of us can't get to on our own is really a no brainer.
I'm looking forward to seeing how these bootcamps evolve as I can see they fill such an obvious gap in everyone's training regime whether they know it or not.
I can't wait to go back for the next round as now that I've seen what real training looks like how could I possibly settle for anything less?"
***********************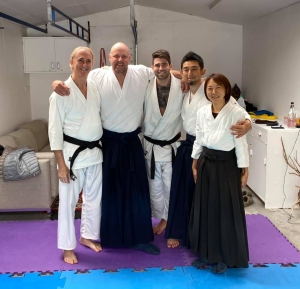 Tim
Recently, I had the opportunity to go to Tasmania to train with Sensei Peter, intensively, for four days alongside another Aikidoka from my club – Michael. This was the single, most powerful and transformative experience for me in my Budo journey.
I started Aikido when I was 13 (2003) having a break for about 10 years after I turned 18 (2008). I'm happy to say I found my way back to my Aikido club (Nathan) around a year and a half ago, where I was lucky enough to see Sensei at our seminar (first time since 2006) in March of 2020.
In those two days Sensei taught me so much, but more importantly, he inspired me to revisit my concept of Aikido and imparted me with the drive I needed. A year later and I made it to Tasmania with every intention to steal as much technique from Sensei as I could.
Anyone wanting to take their Aikido to the next level, take their training seriously, or even just try something new – this is it, just do it. From the moment I got off the plane in Hobart, it was like I was finally home.
The opportunity to train with Sensei and his students was like putting my Aikido in a pressure cooker – two to three sessions a day, two plus hours per session – and just to be clear, I loved every minute of it. They all made the experience so welcoming; it was the most supportive environment I'd been in for… I can't even remember (A big thank you to Mitsuki And Masae).
The mornings were a chance to pick Sensei's brain around his training routine, around programming in the gym, around training inside and outside the dojo, and any other questions I had. At night, when we weren't having an amazing dinner and talking with the other students, Sensei helped to fill in my Aikido history as well as an understanding of the Master's that came before him. Sensei explained, through rich and descriptive narrative, while in the process, passing on his passion for Aikido to me.
I have spent the last two weeks inside and out of the dojo refining all the teaching Sensei gave me, and even though I'm no longer in Tassie, I have the benefit of being able to continue my learning, all thanks to Sensei and the time I spent in Tasmania.
Just to be clear, however, nothing compares to that calibre of training and so I am already in the process of making plans to get myself back to Tassie and I have every confidence that you will feel the same way once you've experienced it.
I've attended a number of International Seminars, National Seminars, training workshops and so on; nothing compares to the depth of learning that comes from doing this boot camp style training with Sensei.
This is for everyone and anyone who wants to do Aikido and Sensei has been very open about his willingness for students to come and train with him in Tasmania. Give it a go, anyone, any level, there is nothing but positives that come from this.
Find your passion for Aikido again and train for real.